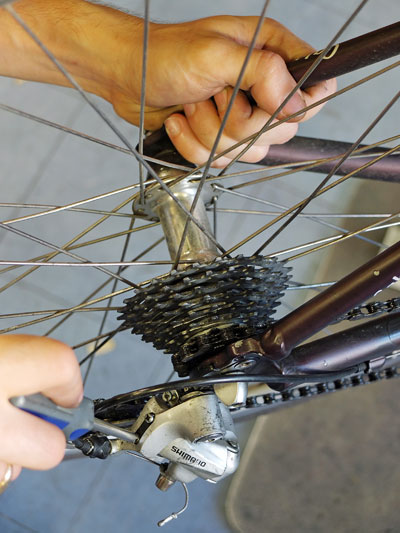 Article by Rob Graham, Proprietor, the London Bicycle Tour Company and Repair Shop.
Opening a bike shop in 1999 - I did not know it was going to be a vocation. It's kind of a word that is disappearing from the English language. It was used to describe the poorly paid, but they love their job so they did it anyway. That sums up the fortunes of a bicycle repair shop.
Over the years, our little shop (The London Bicycle Repair Shop, Waterloo) has slowly made headway. It was described by an advertising executive as a business that will grow organically, and to me that means slowly!
So are we in good shape? Certainly we now have lots of customers - and I hasten to say happy customers - but we also have, year on year, loads more people with a cyclists entrepreneurial spirit joining the marketplace. I have a great team- I would call them enthusiastic geeks- but to our customers they are informative friends. Unfortunately life still seems to be vocational.
So how do we become overpaid professionals? I don't think this will ever happen, but these days there is a lot of tech involved with these humble machines, and I have to pay my mechanics a living wage. As much as I would like to put the prices for our services up this is impossible with every man and his dog opening a cycle shop on every corner in London.
So what do we have to do to stay in business? Opening longer hours seems the best solution. Back in 1999 we opened three days a week. There was no need to open any longer as there was only a small cycling community. In the last 14 years we have expanded our hours from the basic three days to 5 days, and for the last three years opening 11 hours a day to help our customers to drop their bikes in for some TLC and pick them up on the same day avoiding a conflict with work.
Now, If you can't get to a cycle repair shop during working hours, you can bring it to us on Saturday, 10am-4pm
We are launching from 1 February 2014 a QUIK FIX™ service. Bring your bike over, on Friday morning or on Saturday from 10 AM and we will make small bicycle repairs on the spot. These repairs will be, say for, fixing a puncture, fittings and new brakes, buying a new tyre and fitting, things like that. The twist is, you can do this by relaxing. The cafe next door is inviting you for a free coffee/tea while we sweat (metaphorically speaking) over your bicycle. Alternatively you can place your bicycle in the queue, run off and do some other jobs, and we will text you when your bike is ready. If the job is a bit more complicated we will give you some advice, and book the bike in to be fixed another day.
The people who already use the bicycle repair shop are always showing their appreciation. We are hoping that opening Saturday will extend our customer experience to new users.
Rob d'bike.