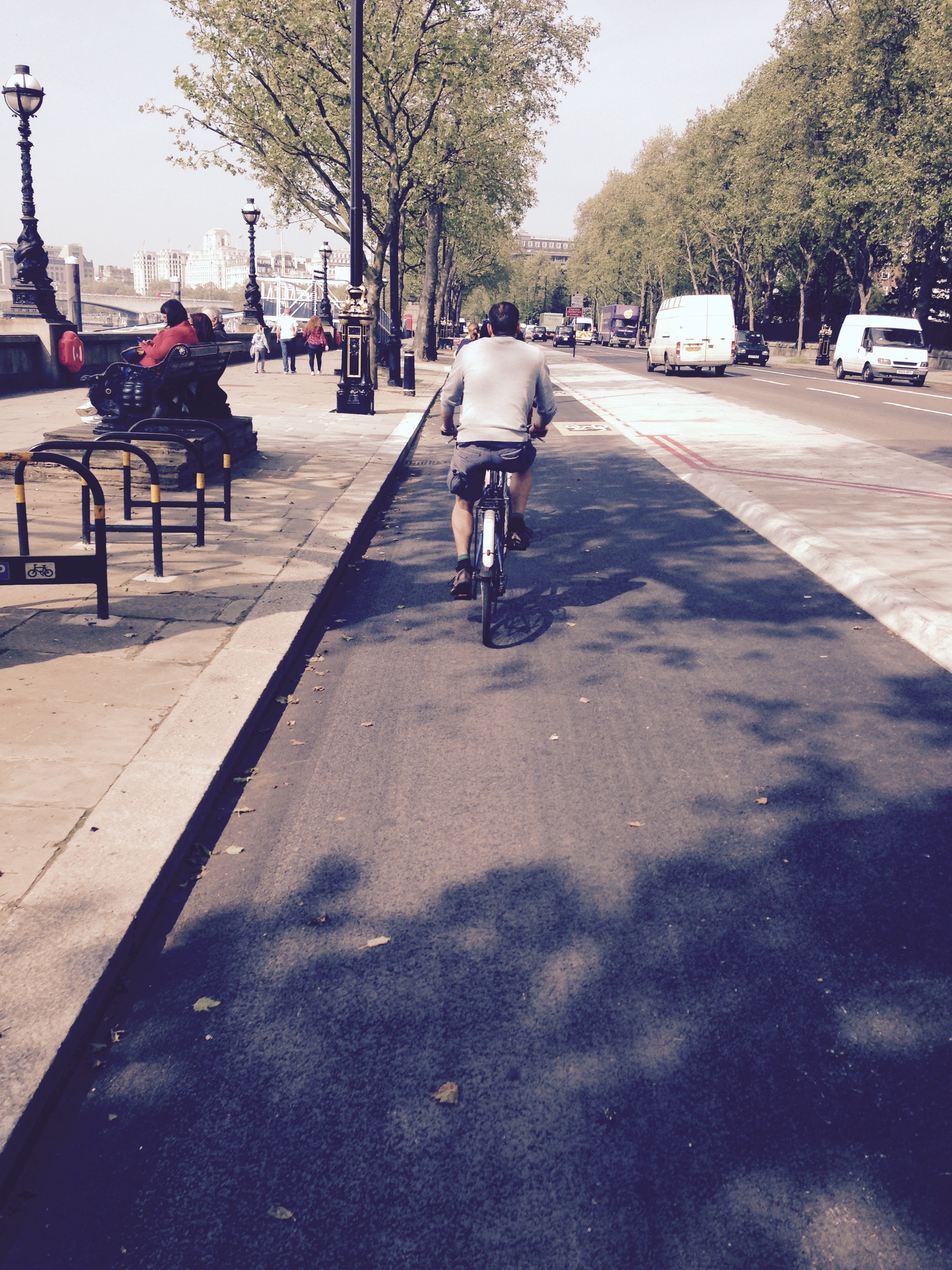 Hi! Kiwi from London Bicycle and Cycle Cities here. In my role helping to run a bike tour company and managing an international network of bicycle tour operators, I have cycled in many cities around the world and have gotten a pretty good idea of which cities are good for cycling, and which are nightmares!
In London we regularly get a bad rap for being a city that is behind the times, where the air is polluted and where cyclists are forced off the road and cut off by honking lorries and angry black cabs. This, in some ways, is true. But as a resident of this big, vibrant, multicultural city, I'm also able to say that London can be an amazing place to cycle, with many cycling routes that take in some of London's most beautiful inner city green spaces and its most iconic sights and architecture.
But even aside from this, the extent to which London is focussed on developing and improving its cycling infrastructure is impressive, and the recent plans and spending being put into place put it in an ambitious bracket alongside world-leading cycle-friendly cities such as Amsterdam and Copenhagen.
Let's look at some of the ways that London's government, led by Mayor Sadiq Khan, are working to improve the safety and quality of the experience of the cyclist on London's roads.
Transport for London have pledged to spend an average of £154 million a year over the next five years to improve cycling, an amount that is almost double spent by previous mayor Boris Johnson during his term

This record-setting investment is roughly an average of £17 per person per year

Two new Cycle Superhighways (CS4 and CS9) are to be consulted on this year, with six existing ones and two in progress

Up to 2021/2022, a total of £770 million will be spent on initiatives and infrastructure to promote and encourage cycling.
Improving cycle structure in London will not only benefit those who depend on their bicycle for work or social reasons, but also the city in general - it will reduce reliance on private modes of transport and contribute towards a less polluted and less congested city. With cycling already wildly popular across many European countries especially, London's growth in this area will also encourage tourism, with cycling enthusiasts able to cycle around freely for low cost to themselves financially, and to their immediate environment.
Increased numbers and miles of segregated cycle lanes, where cyclists can travel quickly, easily, and safely completely separate from vehicular traffic, will also help revolutionise the way cycling in London is seen from an international perspective and open up boundaries for inbound travel and tourism.
At the helm of it all, London is led by a Mayor evidently committed to following through on his words and policies, and learning from the mistakes of the past, where the creation of new pioneering segregated cycle routes became embroiled in criticism and controversy for their poor planning and wastefulness in construction.
"I said in my manifesto that I'd be the most pro-cycling Mayor London has ever had. Today I'm delighted to confirm that TfL will be spending twice as much on cycling over the next five years compared to the previous Mayor. Making cycling safe and easier can provide huge benefits for us all – improving our health, cleaning up our toxic air, and helping tackle congestion. By spending £770 million over the course of the next TfL Business Plan, we'll now be spending the same per head as Denmark and the Netherlands – places famous around the world for their cycling.
-Sadiq Khan, Mayor of London
So, despite it's ambivalent reputation regarding encouraging the use of bicycles, it is clear that, should work continue as it has been and planning moves forward quickly and positively, London's cycling infrastructure is improving, and with it hopefully a conscious and cultural shift can take place moving towards an environment where cycling is normalised for everyone.
If the new and innovative cycle superhighways being promised can do what the Santander 'Boris' city bikes did for raising awareness about cycling and its efficiency, then it is clear that London will have a bright future - and hopefully this will be great for our bike tours and those of our partners worldwide!
Hope you enjoyed reading - keep in touch with us at mail@londonbicycle.com and keep tabs on what we've been up to recently with our blog.
Don't stop reading, and never stop riding!
Kiwi (Rob Binns) - London Lover and Bike Enthusiast.